Making a difference
Your Donations Helping Veterans
Hours Donated to Training, Mentoring & Educating Veterans
Veteran owned business projects assisted since 2015
or less of all donations used for management & admin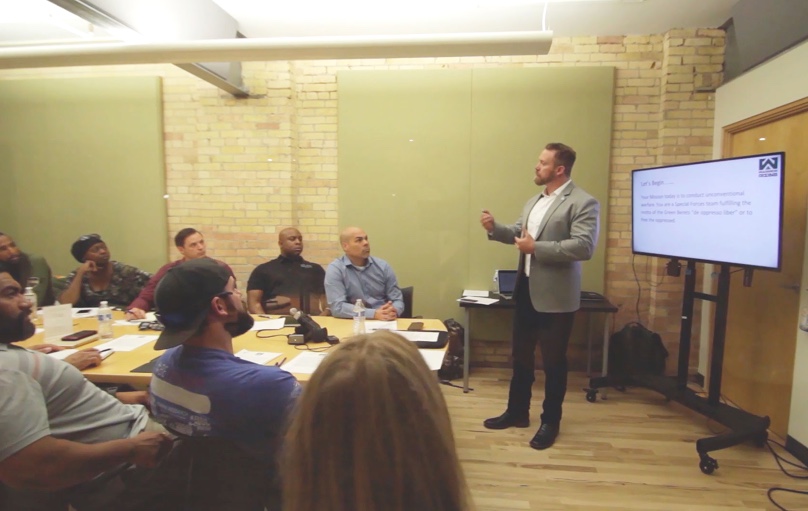 who we are
Providing Veterans Growth Opportunities
Warrior Rising is a tribe of veteran entrepreneurs and veteran supporters. Our goal is to provide veterans with a purpose and community post-military service. We are dedicated to empowering veterans in the most sustainable and altruistic way possible - we help them help themselves. We believe that true charity is providing a hand up, not a handout. We believe in educating someone to help themselves. Help us support veteran entrepreneurs across the country, join the Warrior Rising family.
Learn More
Our Warriors
We are proud of our Warrior Vetrepreneurs
Click on a photo on the left to read their individual stories and learn how we have helped them in their journey to earn their success. Vetrepreneurs in our programs have earned your support.
Get Involved
You Can Make a Difference
Veterans are uniquely positioned for success. Their solid military training is centered on discipline, tenacity and mission success. When given opportunities, they do all in their power to succeed. Without the opportunity to use to fully commit their indomitable spirit, the results can be devastating: anxiety, depression, isolation. Be their helping hand to success. Join our veteran entrepreneur investment program and invest in the lives of American Veterans everywhere.
Become a Donor
Your contributions to our mission enable us to provide instructional programs, mentoring, desperately needed grants and a restored sense of community to entrepreneurial, positively driven military veterans who want to re-establish their purpose post-military.
Become a Mentor
Mentors create a roadmap to help our vetrepreneurs overcome business obstacles. For just a few hours each month, you can make a powerful difference by helping guide and support them with your knowledge and experience. You will be giving them the opportunity to succeed.

"Warrior Rising is leading to success for veteran entrepreneurs. Jason and his staff have a wealth of experience and knowledge covering multiple industries and have developed a great mentorship and training plan for current and hopefully vetrepreneurs."

Josh Duntz

Vetrepreneur
"I believe in the power of relationships!! And this organization is truly built on veterans and their allies in life, they know what it means to be friends and have each other's backs. If you want to grow your community, your business, your passion, I would definitely align yourself with Warrior Rising!"

Tara Rogers

Alumni Vetrepreneur
"I participated in the recent Zero Day program in Salt Lake City where we received excellent training, support and advice from the dedicated staff of Warrior Rising. I cannot recommend this organization highly enough. I'm sure I speak for all the veterans in the program when I say: THANK YOU FOR CARING ABOUT US."

Leonard J. Capobianco

Alumni Vetrepreneur
"The Warrior Rising Academy is an awesome program. I learned core concepts about business that I will always remember. Thanks to the faculty, advisors, and supporters of Warrior Rising."

Frederick Felt

Alumni Vetrepreneur
"Having someone explain how to compare a business plan to an OPORD greatly helped my understanding. I still have a lot more to learn, but The Warrior Academy is likely one of the best places to start."

Luke Burgan

Alumni Vetrepreneur
"I wanted to reach out and say thank you. Warrior Rising is a great organization! We decided to partner up and move forward in the coffee world. It wouldn't have happened if it wasn't for Warrior Rising, thanks again and I look forward to meeting with you again in the near future."

Brad Peugh

Alumni Vetrepreneur
Take the Next Step
Take your next move towards creating your own business by applying to become a Vetrepreneur with Warrior Rising.
Get Started