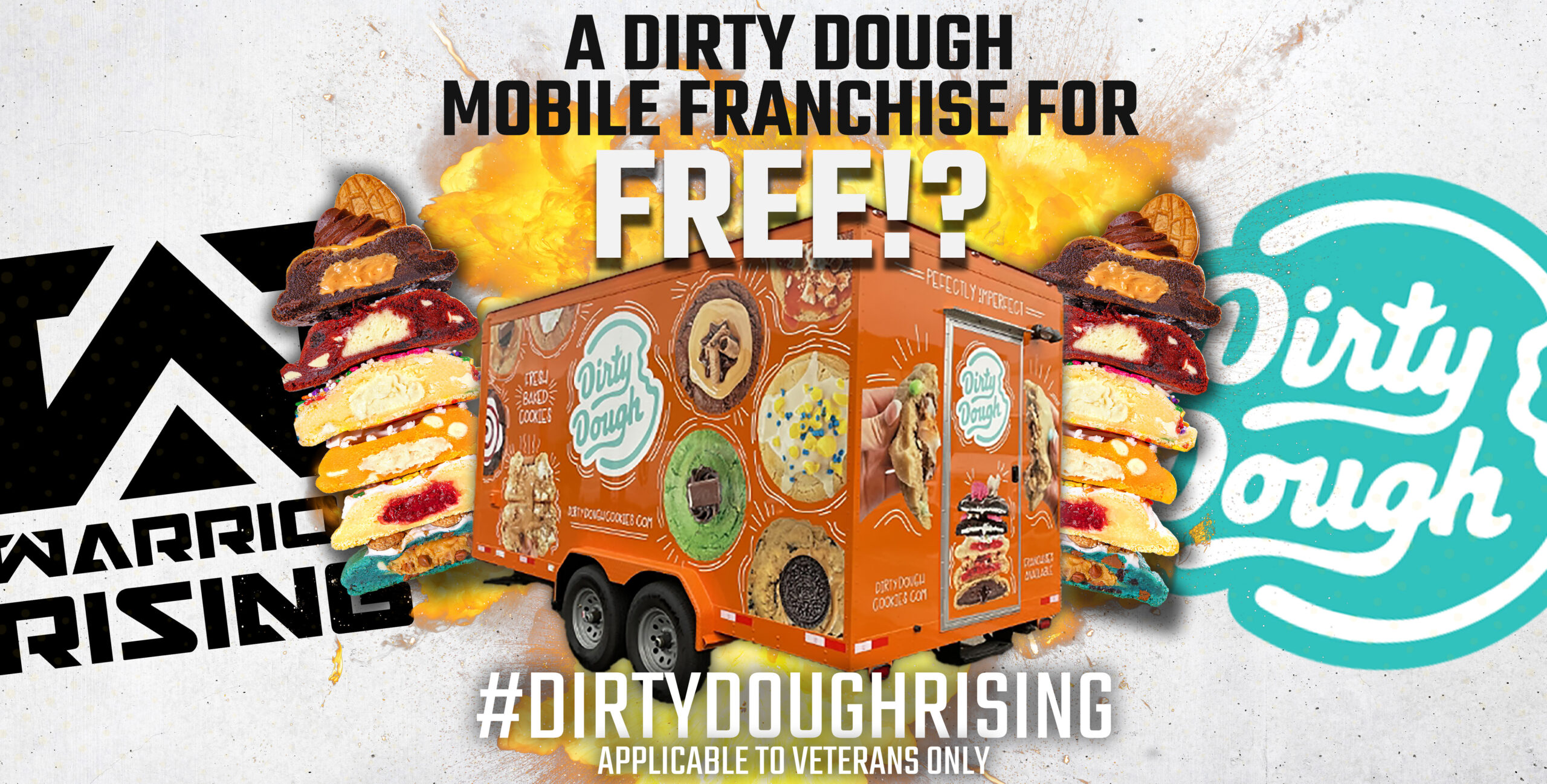 THIS IS A ONCE IN A LIFETIME CHANCE FOR A VETERAN INTERESTED IN A FRANCHISE!
Dirty Dough in support of Warrior Rising is unlocking the ultimate giveaway:
Wave goodbye to the $29,500 mobile franchise fee – Dirty Dough is picking up the tab!
And that's not all – Life is Sweet (a Dirty Dough Foundation) is also throwing in a premium mobile trailer and Warrior Rising will be providing you mentorship and support to help see you succeed.
All of this with an estimated value of over $200,000.
Apply Here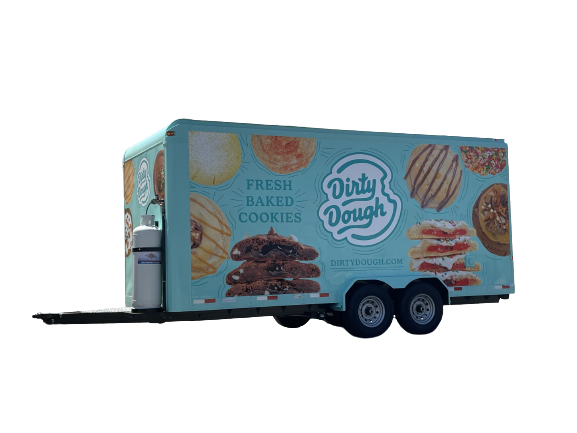 Why a Mobile Franchise?
Accelerated Opportunity for Revenue: Witness potential rapid returns with instant corporate branding backing
Guided by Experts: Embark on your venture with comprehensive training and tailored marketing assistance, along with your own local efforts.
Versatility and Flexibility: Take your business on the road, catering to different locations and events, ensuring maximum exposure and revenue potential.
Community Connection: Engage directly with your local community, establishing a personal touch that sets your mobile franchise apart.
Don't miss out on this exclusive opportunity to transform your future with a mobile franchise tailored just for you – a chance to succeed, and thrive!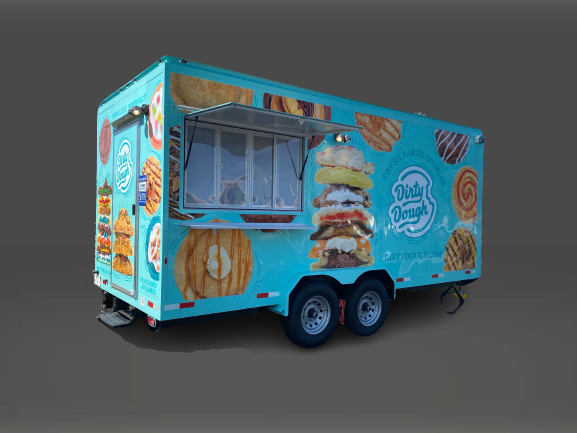 INSTRUCTIONS
Warrior Rising will provide participants to Dirty Dough based on the submissions received (i.e. who has complied with all the requested items) as well as potential interviews or other information gathering by Dirty Dough.  The ultimate decision for the granting of the mobile franchise to a qualified participant will be in the sole discretion of Dirty Dough.
Participation will be dependent on your following the instructions provided and making the submissions requested before the deadlines given.  Due to the nature of the process, there will not be any extensions of time granted, for any reason whatsoever.
Please post your best video on your own social media explaining why you deserve this opportunity using the hashtag #dirtydoughrising! (You can post more than one video!) The more entertaining, the better!
TIMELINE AND SCHEDULE:
August 26, 2023: First round qualification starts-Participants will post a Video on social media of their choice (Facebook, Linkedin, or Instagram) with their best pitch for why they would be successful with a mobile Dirty Dough Franchise, with the hashtags

#dirtydoughrising

and

#warriorrising

(don't forget the hashtags or you may not be identified appropriately!!)

.
September 24, 2023: Final date for submissions.
September 29, 2023:  Finalists will be selected.
October 9 through October 12, 2023:  Finalists will be notified of next steps.
November 11, 2023: Winner Announcement at the Salt Lake City Business Shower
CONFIDENTIALITY AND TERMS
As a condition of Participant's being furnished with financial (including projections and forecasts), contracts, terms, marketing, technical, commercial, pricing, fees, or other information, including, without limitation, plans, techniques, processes, methodologies, analysis and performance information, or other documentation, in any form whatsoever, Participant agrees to treat any information concerning Dirty Dough or Warrior Rising, which is furnished to Participant by or on behalf of Dirty Dough or Warrior Rising, whether now or in the future, as strictly confidential.  By accepting, you agree not to distribute or use, directly or indirectly, or to allow anyone else to use, the information received.
This opportunity will be to acquire a mobile franchise of Dirty Dough (dirtydoughcookies.com/franchising).  To be clear, this is not a brick and mortar store.  The mobile franchise trailer itself will be transferred by Life is Sweet Foundation.
Note: this does not include a vehicle to transport the mobile van. You will need to supply the appropriate connectors, insurance, license and tags.
Success in business depends on a multitude of factors and circumstances and an award of a franchise does not guarantee success, and in fact, involves significant risk.  Neither Warrior Rising nor Dirty Dough/Life is Sweet make any warranties, implied or in fact, whatsoever.
Please carefully review the information provided in the Disclosure Documents on the next screen (particularly the exhibits, such as Exhibit A-3). This does not constitute an offer for you to enter into a Franchise with Dirty Dough but is merely provided for informational purposes only and to allow you to ask questions before proceeding.  Terms for a mobile franchise may be similar but not exactly the same as in this disclosure document.  If granted the mobile franchise, you will be required to enter into an agreement with Dirty Dough, as well as provide any other additional information required.
Click here to review Materials
In consideration for your participation in this program, you hereby remise, release and forever discharge Warrior Rising, its officers, directors, employees, staff, or agents from all and all manner of actions and causes of action, suits, debts, covenants, contracts, agreements, judgments, claims and demands whatsoever, whether in law or equity.  If you are awarded the mobile franchise, we strongly recommend that you consult with an attorney in your jurisdiction to assist you with the process.
Participation and program void where prohibited by law.
By accessing the materials and submitting an application, you are confirming your agreement to all of the foregoing terms.